Hard Chrome Metal Roll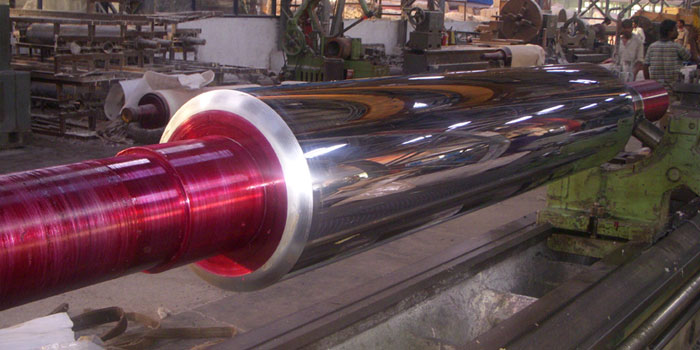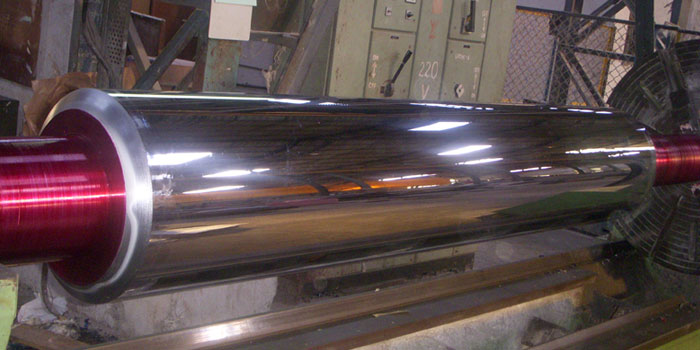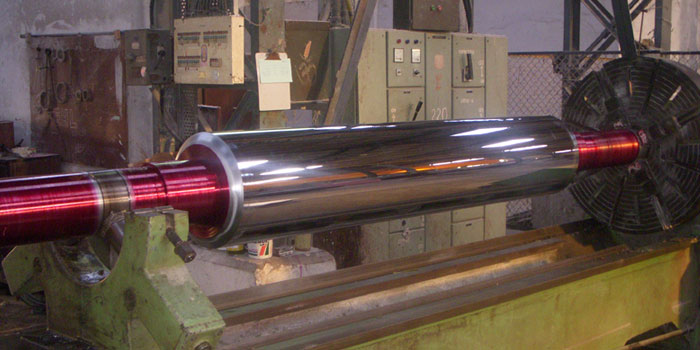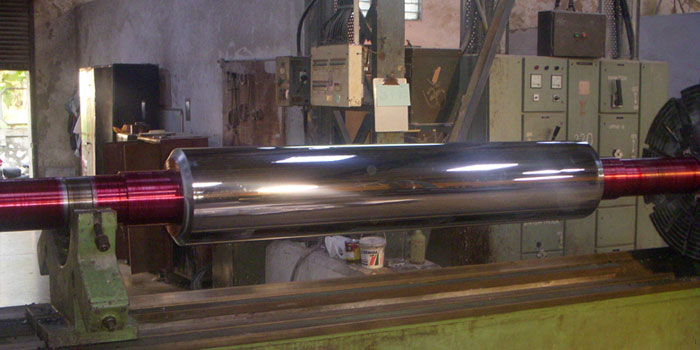 ECK Hard Chrome Plated Metal Roll
Hard Chrome Roll is known in many names Such as Heating Roll, Metal Roll, and Finishing Roll Hard Chrome Plated Roll.
ECK Hard Chrome Roll is a vital part of Calender Machine, The Finish is the mostly depends upon the Metal Roll or Hard Roll. These roll provide the best support to elastic rolls or soft rolls , the nip is formed with the combination of elastic roll is responsible for the finish on fabric or on paper or any other media which are being to pass through the calendering process.
ECK Hard Chrome Roll stands tall in all quality and Operational Parameters.
Why Hard Chrome Plating Needed?
Hard Chrome Plating on the Metal Roll provides the Excellent finish on the Calendared product due to its Superior Mirror Finish. Chrome Plating Provides Wear Resistance, buildup of surfaces, rust prevention or chemical resistance (and superior friction qualities),
Technical Detail Of ECK Hard Chrome Roll
Chrome Plating Thickness: 80 - 200 Micron.
Dimension Parallelism: 0.05 – 0.1 mm Dimension Eccentricity 0.2 – 0.3mm
Roll Diameter Availability: 510 mm +
Roll Face Length Availability: 3600 mm
Hard Chroming Plating is an Art
At ECK We recognize the importance of cleaning prior to Hard Chrome Coating in our plating process. To achieve the required level of cleanliness and surface dimension Accuracy the roll has to undergo through the Pre Plating Grinding if required roll will be pre-blasted in blasting room
To ensure proper bonding and a superior, wear resistant surface, Chromium must be skillfully impregnated in the metal pores.
Plating is an art that benefits from our extensive, in-house expertise in metallurgy, metalworking and plating.
Plating is a Science (Too!)
This art and Science combination allows us to provide the most superior coating available on every job and the most effective solutions in the industry today. After Plating we called it post plating Treatment, We are fully capable of eliminating problems of distortion, offering dimensionally stability and durability characteristics and achieve the Superior mirror Finish on the surface.
Our Chrome Plating services and Rolls are called upon by leading industries, including:
| | | | | | |
| --- | --- | --- | --- | --- | --- |
| | Textile Calendering | | Plastics and Converting ,Wallpaper | | Embossing |
| | Steel | | Non woven Calendaring | | Corrugating and Container |
| | Jute | | Pulp and Paper | | |
| | Aluminum Foil | | Grey Fabric Finishing | | |
Compression Chart of Hard Chrome Roll
Normal Hard Chrome Roll V/s ECK Haubold Laxmi H.C. Roll
Description
Normal Hard Chrome Roll
ECK Haubold & Laxmi Hard Chrome Roll
Advantage
Construction
From Pipe
From One Piece Solid Shaft
Durable Long Life,
Design
Local design as per pipe availability
German Design
Standard Design Technically Proven
Operation
Deflect in high Pressure
Stable In High pressure
Trouble free running
Wall Thickness
Less Wall Thickness
Solid Shaft with boring
Maintenance Free
Balance
Not Done Balancing
Static Balanced Roll
Smooth Operation
Accuracy
Not So accurate In Dimensions
Highly Accuracy Maintained
Fabric will get even finish
Chrome Platting
Less Micron Platting
More Micron Platting
Working Life is More
Surface Finish
Dull Finish
Mirror Super finish
Excellent Fabric Finish
Weight
Light Weight
Heavy Weight
Sturdy Design